Reflecting on how you look and feel?
Want to feel rejuvenated, revived and invigorated?
Want to reduce the signs of ageing?
About Cosmetic Acupuncture
Cosmetic acupuncture is a therapy without chemicals or surgery, used to stimulate the body's own mechanism to improve, firm and rejuvenate its tissues. Results are subtle and natural beauty is also emphasised through good health and improved energy levels, which is why patients are treated for their general health at the same time. This enables the effects of cosmetic acupuncture to remain for a longer period. A 1996 report in the International Journal of Clinical Acupuncture reported that among 300 cases treated in China with cosmetic facial acupuncture, 90% had marked effects with one course of treatment. Effects included: improvement in skin texture and colouring, increased elasticity, reduction of wrinkles and overall rejuvenation, not merely confined to the face.
How does it work?
Cosmetic acupuncture predominantly works on the connective tissue (the tissue that holds the skin to the muscle), increasing collagen (the main protein of connective tissue) production, improving muscle tone and resulting in the skins firmer appearance. Some other improvements may be seen in tightening of the pores, brightening of the eyes, improving acne via hormonal balancing, and refreshed looking skin through increased local blood and lymph circulation to the face.
What can be treated?
Improvements may be seen with:
fine and deeper wrinkles
sagging skin
sagging jowls
droopy eyelids
puffy eyes
skin rejuvenation
acne
eczema
psoriasis
cellulite
Treatment
A typical course of cosmetic acupuncture is around 12 treatment sessions (at least 1/week initially). Cosmetic acupuncture does not work for all patients, and everyone's individual response is different, depending on their age, their general health and their life style. Please note that some patients will be unsuitable for cosmetic acupuncture. Therefore, I offer a free initial consultation, with no obligations to then embark upon treatment. Please remember that cosmetic acupuncture is not a replacement for dermal fillers, botulinum toxin-A injections or surgery, but it is an excellent natural alternative.
Neck: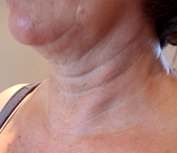 Session 1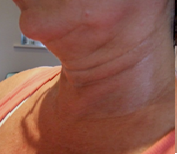 Session 2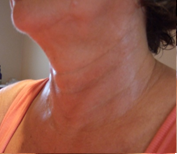 Session 6
References
Zhang, Q. and Zhu, L. (1996). Meridional Cosmetology: Report of 300 Cases with Discussion of Underlying Mechanism. The International Journal of Clinical Acupuncture, pp 401-405.
Doran, V. (2007). An Introduction to Facial Revitalisation Acupuncture [Electronic version]. The European Journal of Oriental Medicine, 5(5).